Author Barbara Sillery
Award-winning television producer, documentary scriptwriter, and author of the paranormal Barbara Sillery has a passion for storytelling. Through her books and documentaries, she uncovers tantalizing tales of ghosts, hauntings, and lost cultural treasures. As a guest speaker, she entertains and delights her audiences with amazing plot twists and colorful characters.
"Prepare to be engaged and entertained. . . Barbara's gift for storytelling holds in the written word just as it does before a television camera."
NEW BOOKS AVAILABLE IN YOUR FAVOIRITE BOOKSTORE OR AS E BOOKS:
Haunted America Series:
Haunted Nantucket
Haunted Cape Cod's Sea Captains, Shipwrecks, and Spirits


Haunted Cape Cod

Haunted Mississippi's Delta and Beyond
Haunted Louisiana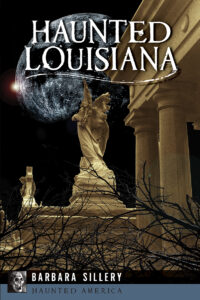 ENJOY!
Whether it is the past which haunts our present or tackling the unknown looming before us, a simple hug provides the reassurance that we are not losing it and the sky will not implode. An apology wrapped in a hug goes a long way in mending relationships. Conversely, when we are the cause of the pain, we beg forgiveness and crave a hug from the one we've hurt. My poem "Apology in D Minor" was selected as the Featured Poem of the Week by the National Association of American Pen Women. I share it here hoping it offers some comfort.
Apology In D Minor
—© Barbara Sillery 2020
The sky is falling.
There's a hole in the ground.
Hug me. Hug me, now.
The road is too narrow.
The hill is too steep.
Hug me, hug me quick.
I didn't do it right.
I didn't do it at all.
Hug me. Hold me. Please.
If God's in His/Her heaven and all's right with the world,
where does this broken part fit?
A half a hug would do.
It just happened that's all.
It does you know—
flat tires, gray hairs,
wrong turns, hurricanes,
fires, floods, pestilence,
and then there's that big one— Woe.
It sounds better in French:
Je ne sâis pas pourquoi—
I do not know why,
but the logic remains as pitiful.
So perhaps, s'il vous plaît,
un petite hug por moi?
So here I stand
awaiting the verdict,
wishing I could
create a reason,
even an unreason
would be nice.
But what if there isn't?
Hug me anyway?
Meet the Author
It's been a busy few years. I continue to work as a television producer. I have produced and written the new Visitor Video for the Museums on the Green and the Town of Falmouth on Cape Cod, and completed my fifteenth year as coordinating producer for the live four-hour coverage of the final night of Mardi Gras for New Orleans PBS station WYES-TV. Thank you to all who have come to my talks, presentations, and writing workshops. As an author and guest speaker, it is a wonderful experience to meet and share ideas with you. Since our communication now is heavily reliant on virtual talks, please check out my Blog Page where I share stories and look forward to your comments.
blog
The Haunting of Cape Cod and the Islands is a ghostly tour of than twenty-four haunted historic sites with addresses listed in the back so you can have your own ghostly encounters. Along with my others, The Haunting of Louisiana and The Haunting of Mississippi, they are available online through Amazon (please check LIKE or write a review, I'd really appreciate it) and pelicanpub.com. You can also order my books through most bookstores.

Discover More About My Books & Documentaries
Following the success of my documentary, Biloxi Memories and the Broadwater Beach Hotel, which was broadcast on PBS stations along the Gulf Coast, my book Biloxi Memories is a time capsule revealing the remarkable events in what was once a tiny fishing village. Meet the young Elvis Presley who loved to perform and hang out in Biloxi where he met and fell in love with a local girl. Get the inside story of what really went on at some of Biloxi's legendary hotel: the Edgewater, the Buena Vista, and the Broadwater Beach. The Broadwater was a favorite of presidents, mobsters, and Hollywood stars such as Paul Newman and Joanne Woodward. Read about some of the often hilarious incidents that occurred between staff and stars. Biloxi Memories has more than 150 full-color photographs and vintage postcards capturing everything from hijinks to hurricanes.
Find My Books & DVDs Online or in Your Local Bookstore
My books Biloxi Memories, The Haunting of Cape Cod and the Islands, The Haunting of Mississippi, and The Haunting of Louisiana are all available through your local independent bookstores, as well as Barnes & Noble and Books-A-Million, as well as through online orders and e-books at Amazon.com. DVDS of the documentaries Biloxi Memories and the Broadwater Beach Hotel and City Park Memories are available through wyes.org/shop.
The documentaries Faded Ladies and Plantation Portraits help in understanding the complexities of preserving plantation architecture. There is a special focus on African-American heritage and the contributions of an enslaved people: their skills in cabinetmaking, building, and other crafts. Amazing slave narratives bring the story to life with insights rarely heard before. DVDs of Plantation Portraits and Faded Ladies are available through Amazon.
More Exciting News
My work and enthusiasm for my two mystery novels Ghosts Within and Ashes of Old Lovers continues. Meet Zee Zuchowski, a travel writer who stumbles on a body in an abandoned pool while staying at the Myrtles Plantation, which has been touted as America's most haunted home. In Ashes of Old Lovers, Zee has been hired to write a book about the Grevonburg Mansion near New Iberia, Louisiana. The lives of the Grevonburg family members are shrouded in mystery, and Zee must unravel this tangled web before she can complete her assignment.
My foray into poetry has proved rewarding: Apology in D Minor and Pandemic 2020 have both been selected as Featured Poems of the Week by the National Association of American Pen Women.
Wishing you safety, sanity, and good health as we all move forward,
Barbara
Check out my blog for what I am currently working on.
Contact author Barbara Sillery to discover more of her writing. Based in Cape Cod, she travels nationwide for her work.